Freeze – dryed food for
long-term storage
Duration: 15-20 years and more

Best investment for Your Future when prices are increasing,
Earth Changes are coming/existing,
Financial Crisis/Recessions are there etc...
Only food you can eat, no paper (money) and gold (metals) !
Special discounts for our customers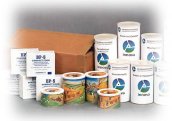 • Freeze-dryed and dehydrated prepared meals or raw food material with a unique new vacuum technology where the total oxygen is sucked out and only nitrogen is added without any preservatives

• safely prepared in metal cans

• extremely long duration due to the vacuum technology

• best quality ingredients without preservatives

• for children and tasty

• quick preparation, no cooking only add water

• easy storage at room temperature or in a cellar

Inexpensive shipping to whole Europe without any extra customs and double turn-over taxes

Contact: Mira Mamtani (Germany)

Tel: 0049-(0)8194-999033

E-Mail: goldene@t-online.de
---
General information about Dehydrated Food:
Dehydrated or vacuum - packed food guarantees a longer shelf life than all other conservation methods. Fresh or dryed instant meals are shock - freezed in order to retain taste, colour, structure and nutrients.The frozen product is placed in a special vacuum room, where ice is transformed into gas and removed from the food. During this time the food products have lost 90% of their weight and up to 30-90% of their volume.They are then placed in air and water tight cans under vacuum.
The air in the cans is then replaced by nitrogen and then sealed. The quality can be maintained this way.
When the process is reversed and hot or cold water is mixed with the food products, the products are back to their original condition. The lower the temperature in the storage place, the lower the chemical reaction and therefore the change in the food products.
The best storage is in a cool dry place at room temperature or less.
Rooms like an attic over 30 degrees should not be used. This damages the food products. Also rooms with high temperature differences should not be used. (Only for a short time storage from 3 to 4 years)
All the products undergo a quatily control and contain only the best biologial ingrediences. The mixture is put together by food experts with a good balance between vitamins, minerals and proteins.
The meals are lightly seasoned and ideal for small children and older persons.
Quotes from customers:
November 2007: Miss S. Schiron: " Thank you for the delivery of the 30 day package.
We were curious and wanted to know how such food will taste. Therefore we tasted some of the dishes, for example:
Noodles in tomatoe sauce: It was very tasty.
Mashed potatoes: fluffy and light (like home made)
Srcambled eggs: great taste (even added with chive)
Pumpernickel and bread were fresh and tasty, also the swiss cereals and the milkpowder.
We were in general surprised about the taste and very happy about it even my grandchildren (age 9 and 12).
The preparation is very easy and fast and we assume that all the other dishes/meals will also match our wishes.
November 2008: Miss I. Frankenstein: " I have tasted some meat dishes which are also included in the 90 Days Package: Chicken with Curry, which tasted very good.
Meat with Noodles which tasted good."
Terms of delivery for Europe:
Order through:
Mira Mamtani, Abt-Moosmüllerstr. 20, D-86946 Vilgertshofen, Germany.
Tel: 0049-8194-999033, Fax: 0049-8194-999055.
E-Mail: goldene@t-online.de. Website: www.langzeitlebensmittel.de
We are a registered mail order service and procure the products which are produced and delivered directly from the company in Germany to the customer in Europe. You will receive from us an original garantee certificate from the company garanteeing the duration of 15 years
Detailled information: contact
Prices / Discounts:
The prices can change due to the world recession.
We are offering our customers special discounts for some of the offered products. Furthermore if the purchase is of a higher amount. Please contact us !
Payment:

Through pre-payment via European bank transfer since the products will be specially produced for each order or through Paypal credit cards: Please contact us and we will provide you with the bank account information. You will receive from us an invoice/guarantee certificate by mail.
Delivery:
Shipping to an address in Germany or Austria:
New: Free shipping if the amount per order is more than 599.- EUR (excluding the Vat)
Delievery costs to all other European countries/locations:
As cheap as possible. Please contact us to find out the shipping costs to your location.
Duration: Shipping will take ca. 3-6 weeks depending on the size of the orders and total amount of demands the company has in that moment. If the general demand is high, shipping might take a bit longer !
Notice:
Please note that the food products will lose up to 90% weight during the drying process and will reach the original quantity when adding water.
The storage has to be in a dry and cold place, either room temperature or colder. Do not store the food in places where it is 30 degrees or more.
These long-term products are unique due to the high quality and can also be used for every day purpose and not only for emergencies. Therefore it can be considered as an investment in case of inflation with increasing prices of raw material and food products. In case the long-term products are not fully used, they can be later on given as a donation.
---
Long-Term Food:
30 Day Package: (prepared vegetarian meals)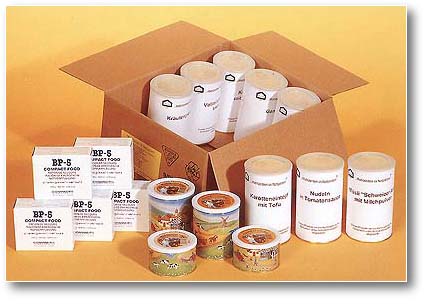 Contents:

1,2 Liter Cans

contents

quantity

portions

cal

Cereals (Swiss)
600 g
1.200 g
4
2.232
Scrambled egg
600 g
1.500 g
6
3.558
Noodles in tomatoe sauce
400 g
1.600 g
4
1.376
Vegetables with soja
800 g
2.800 g
6,5
2.843
Lentil stew
750 g
3.200 g
7,5
2.700
Mashed potatoes
1.000 g
6.100 g
32
3.220
Milk powder
650 g
5,9 Liter
20
3.211
Tomatoe soup
700 g
5,7 Liter
38
2.359
Wholegrain bread
500 g
500 g
830
Wholegrain bread
250 g
250 g
415
Pumpernickel
500 g
500 g
806
Pumpernickel
250 g
250 g
403
BP-5 (Special wheat cake)
5 x 500 g
2.500 g
11.300
Total calories

35.253

Cal. per day ca.

1.175
Measurements: L 42 cm W 32 cm H 20 cm, 1 box a 12 kg
Price per package: € 289,00.- incl. 7% Vat.
90 Day Package (prepared meals with meat)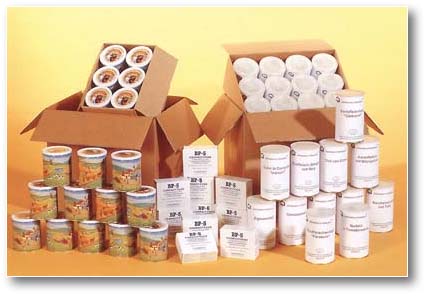 Contents:
1,2 Liter Cans

contents

quantity

portions

cal

Meals with meat
Beef Stroganoff
750 g
2.600 g
6
2.925
Potatoe stew "Gärtnerin"
600 g
2.600 g
6
2.148
Beef stew "Försterin"
600 g
2.100 g
6
2.346
Hungarian stew
600 g
2.100 g
6
2.346
Indonesian rice stew
750 g
2.100 g
6
2.948
Chili con carne
600 g
2.600 g
6
2.046
Meals without meat:
Noodles in tomatoe sauce
400 g
1.600 g
4
1.376
Vegetables with soja
850 g
2.600 g
6,5
2.843
Mixed vegetables
700 g
2.400 g
6
3.465
Lentil stew
750 g
2.600 g
7,5
2.700
Pea stew
700 g
3.000 g
7
2.653
Mashed potatoes
1.000 g
5.100 g
32
3.220
Scramled eggs
600 g
1.200 g
6
3.558
Pancakes
700 g
1.400 g
7
3.101
Tomatoe soup
700 g
7,7 Liter
38
2.359
Potatoe soup
1.000 g
10.000 g
33
3.520
Beef tea
1.000 g
55 Liter
200
1.320
Breakfast
Cereals (Swiss)
600 g
1.200 g
6
2.232
Butter powder
500 g
700 g
3.840
Mousse au Chocolat
750 g
1.500 g
7,5
3.668
Banana chips
500 g
500 g
1.800
Wholegrain bread
24 x 500 g
12.000 g
19.920
BP-5 (Special wheat cake)
10 x 500 g
5.000 g
20.200
Drinks:
Orange tea
1.000 g
15 Liter
40
3.900
Lemon tea
1.000 g
15 Liter
40
4.820
Milk powder
650 g
5,2 Liter
20
3.211
Total calories

109.275

Cal per day ca.

1.214
Measurements: L 43 cm W 34 cm H 43 cm, 2 boxes a 22,5 kg
Price per package € 1015,00.- incl. 7% Vat.
1 Year Package (Basic Food Products in big cans)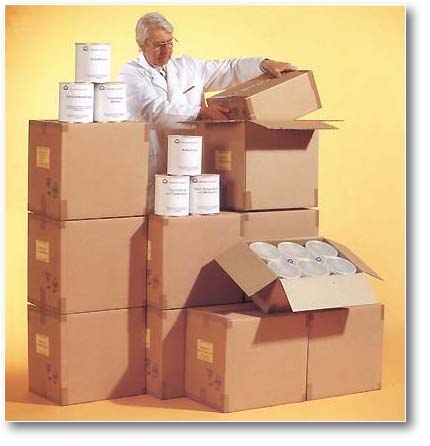 Contents

Package Nr.
Products

3 Liter
cans

Quantity
per can

1
Spelt
6
2.500 g
2
Spelt flour
6
2.000 g
3
Spelt semolina
6
2.300 g
4
Spelt flakes
6
1.500 g
5
Carots
6
1.000 g
6
Green beans
6
650 g
7
Peas
6
1.500 g
8
Meat-vegetable stew
6
900 g
9
Soja
6
650 g
10
Rice
6
2.500 g
11
Noodles
6
1.000 g
12
Mashed potatoes
3
2.500 g
13
Potatoe cubes
3
800 g
14
Milkpowder
6
1.500 g
15
Skimmed milkpowder
6
1.500 g
16
Egg powder
6
1.300 g
17
Breakfast muesli
6
1.700 g
18
Chocolate drink
2
2.000 g
Orange tea
2
2.500 g
Lemon tea
2
2.500 g
19
Banana chips
6
1.200 g
20
Vegetarian broth
1
2.500 g
Butter powder
2
1.300 g
Sugar
2
3.000 g
Salt
1
3.500 g
Total calories

675.000

cal. per day ca.

1.850
Total amount of boxes: 20 small boxes, total of 120 cans a 3 Liters / 6 cans per box. All cans have removable lids and can be closed again with an additional plastic lid.
Basic food products in big cans. Measurements :
L 50 cm W 34 cm H 43 cm, 20 boxes a ca. 11 kg
Price: € 3490,00 incl. 7% Vat.
B5 - Emergency Package (Special Wheat Cake)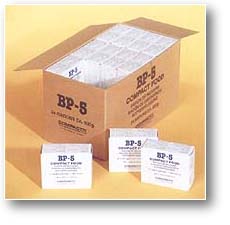 BP5 is a special Wheat- Cake with an extreme high value of nutrition, all important vitamins and minerals.
This special product is used for the Military and the Navy. Through a special procedure of manufacture the duration
is 15 years and longer. According to the laws of the food administration the duration mentioned on the packages is
only 5 years. BP 5 can be used as food for small children.
1 box contains 24 small packets a 500g, 1 small package contains 9 slices and contains 2.290cal.. Total cal: 55.000
Measurements: L 38 cm W 21 cm H 22 cm, 1 box a 14 kg
Price per box: € 225,00.- incl. 7% Vat.
Spelt package: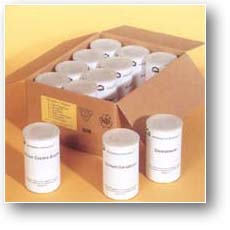 1,2 Liter cans


Spelt
Spelt semolina
Spelt flour
Spelt cremesoup
Spelt noodles
Spelt flakes

Contents/cans
1000 g
900 g
850 g
900 g
300 g
500 g

1 Box contains from each product 2 cans à 1,2 liter.

12 cans are contained in 1 box. . The spelt comes from a biological -

dynamical production. The spelt cremesoup is made according to a

recipe from Hildegard von Bingen.
Measurements: L 43 cm W 34 cm H 43 cm, 1 box a 10 kg.
Price per package € 255,00.- incl. 7% Vat.
Meat-dishes (Ready- made Meals)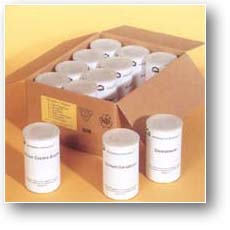 Contents:
Beef stroganoff (5,1 kg) - Potatoe stew (5,1 kg) - Beef stew with noodle (4,2 kg)
- Indonesian Rice stew (5,2 kg) - Hungarian stew with noodles (4,2 kg) - Chili con carne (5,1 kg)
1 Box of each product contains 2 cans à 1,2 Liter. 12 cans are in 1 box. Total cal. per box : 21.810 kcal.
Price per box € 375,00.- incl. 7%. Vat.
Basic Food 1: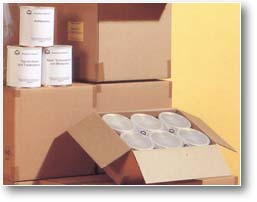 This package contains important food like Whole Milk, Powdered Egg and Powdered Butter. One package includes a total of 12 cans per 1,2 ltr., weight ca. 12 kg.
Packed in metal cans under vacuum and nitrogen
4 cans Whole milk (yields 20,80 Kg)
4 cans Full Egg Powder (yields = 120 Eggs)
4 cans Butter Powder (yields 2,80 Kg)
Price: 289,00 incl. 7% Vat.
Basic Food 2: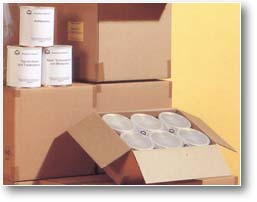 This package contains ready-made vegetarian dishes (total 12 cans per 1,2 ltr).
4 cans Noodles in Tomato Sauce (yields 11,20 Kg.)
4 cans Vegetable Risotto (yields 10,40 Kg.)
4 cans Carrot Stew with Tofu (yields 10,40 Kg.)
Price: 289,00 incl. 7% Vat.
Basic Food 3: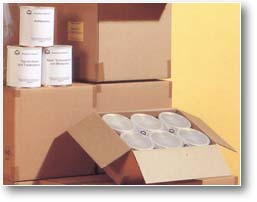 This package contains 3 different soups (total 12 cans per 1,2 ltr.)
4 cans of Tomatoe Soup (yields 28,80 lt.)
4 cans of Potaoe Soup (yields 44 ltr.)
4 cans Cream of herbs Soup (yields 30,80 ltr.)
Price: 289,00 incl. 7% Vat.
10 liter big size cans: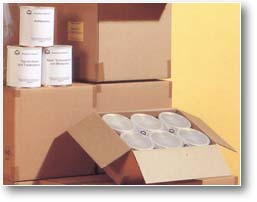 New vacuum technology now allows packing cereals in 10 lit. metal cans.
The special packing through vacuum and nitrogen guarantees longtime preservation.
Thanks to a biggerr size of cans (ca. 8,4 kg contents per can) the contents is increased and the prices cheaper compared to the 3 lit. cans.
Price per can: € 95,00,- incl. 7% Vat.
Due to shipping politics only two cans (also mixed cans) can be delivered !!!
Available products in 10 liter cans:
Spelt (8,4 kg)
Spelt Noodles (3 kg.)
Natural Rice (8,4 kg.)
Green Beans (1,5 kg.)
Meat-vegetable stew (3,5 kg.)
Potatoe cubes (3,5 kg.)
Onion Slices (1,5 kg.)
Spelt Flakes (4,5 kg.)
Noodles (3,5 kg.)
Carot cubes (3,5 kg)
Green Peas (4,5 kg.)
Soja cubes(2,5 kg.)
Banana chips (4,5 kg.)
Special requests:
In general, it is possible that all mentioned ready made meals and basic products can be purchased separately.
It is however necessary to order a full package containing either 12 can per 1,2 liter or 6 cans per 3 liter.
Please contact us if you have interest in special requests !!!
---
Important additional Products besides Foodstorage:
Water filter Katadyn Pocket (From Switzerland):

The best, handy water filter for open water sources in emergency cases. This robust water filter can be used contineously for many years under extreme conditions. The impregnated ceramic-filter element of silver is very effective against bacteria, viruses and all kinds of particles...and also prevents the particles from going back into the filter-system. This is the only water filter from company Katadyn (Switzerland) which has a guarantee of 20 years and can filter up to 50.000 liters
Product features:
Technology: 0.2 Mikron Keramik-Filter
Performance: ca. 1 l/min. up to 50´000 liters dependant on the quality of the water
Weight: ca. 550 g
Mass: 24 x Ø 6 cm
Accessories: pre-filter, lid and bag
Price € 299,00.- incl. 19% Vat.
"Watertechnic - Package": (New improved contents)
Contents of the package: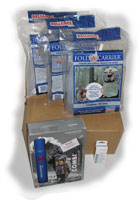 3 x 20 lt. PE folding canisters
1 x Micropur sterilizing tablets MC10T (f. 400 lt. water)
1 x Katadyn water - filter " Combi Plus "
With the ceramic water - filter of Katadyn polluted water can be transformed
into pure drinking water without any boiling or any chemical ingredients.
The size of the filter of only 0,0002 mm does not permit that bacterias, viruses and radioactive
particles can penetrate. The included silver in the filter prevents that bacterias can go back to the filter-system. The filter can be used up to 7000 liter according to the degree of water pollution.
Performance: ca. 1/2 liter/minute. The sterilizing tablets are for a storage of water between 6-9 months without having any effect on the taste of the water.
The three 20 liter canisters can be used for storage or water transport.
Price: € 285,00.- pro package incl. 19% Vat.
"The Technic- Packet " (New improved contents):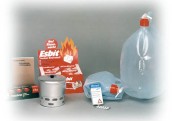 Contents:
2 x 20 lt. PE folding canisters
2 x sterilizing tablets Micropur MC10T (f. per 400 lt.)
1 x Optimus Terra cooking utensil
1 x Optimus Sports Titan (cutlery)
1 x Optimus cooker Hicker plus (can be used with diesel, petrol normal or paraffin)
1 x Long - lasting candles
2 x Luminous - sticks
1 x Solar/Dynamo radio + lamp
Size of the box: : 59 x 38 x 48 cm, ca. 10 kg. Price: € 370,- incl. 19% Vat.
---
Impressum and contact page: copyright 2009 all rights reserved
---